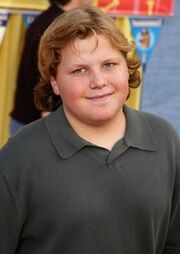 Henry Baker
(born March 12, 1991) is the fourth child of the Baker family and the second son.
In the first film he is 12 and plays the clarinet. Henry has a good relationship with Charlie but not such a good one with Kim and Jessica. He wears a flatcap and is told not to play his clarinet with food in his mouth. He attends middle school after they move but is not seen there.
In the second film he is 14 and doesn't play the clarinet as much and has lost a bit of weight. He is seen playing his clarinet once at Lorraine's graduation party. His father comments that "he's gotten really good" at it. Henry willingly goes to the vacation house and while helping his father trap the packrat "Chisler", he gets trapped under a bookcase, but not hurt. Henry appears to be quite close with Nigel and Kyle in this film.
Henry Baker is played in both films by Kevin G. Schmidt.
Ad blocker interference detected!
Wikia is a free-to-use site that makes money from advertising. We have a modified experience for viewers using ad blockers

Wikia is not accessible if you've made further modifications. Remove the custom ad blocker rule(s) and the page will load as expected.