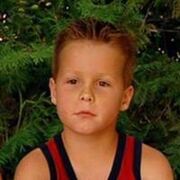 Kyle Winnetka Baker
(born April 13, 1998) is the youngest of the Baker family with his twin brother
Nigel
. He enjoys playing with his father and is nasty to his  teacher.
Kyle is the first one who agrees to go to the lake because he claims with Nigel: "We'll go to any place that has our names in it." Kyle's second name is Winnetka because that's where he was conceived, according to Tom. When he then proceeds to ask what conceiving is, Jessica opens her mouth to explain, but Kate cuts across her, telling them that she will tell them when they are much older.
He mostly plays with Nigel at Lake Winnetka. He assists his brother and sister Sarah when the latter is going to play a prank on Jimmy Murtaugh. He tosses the meat to her when everyone had gotten together for lunch at The Boulders.
Kyle goes with his father and his twin to the Labor Day Cup games and asks Kate if she will come to watch them. She replies with; "Well yeah, maybe after I've fed everyone and..." He says 'oh' and heads off. When Kyle, Nigel and Tom arrive at the scene of the Labor Day games, Jimmy taunts them, asking if he hadn't got enough volunteers. Tom bravely tells Jimmy that they're all he's got and that it's enough to beat them. Jimmy responds with: "We'll see Baker." The rest of the Baker crew arrives after Kate had given them a pep talk. He along with his family helps to get Nora to the hospital in time to deliver her baby.
In both films, he is played by Shane Kinsman, the identical twin brother of Brent Kinsman, who plays Nigel Baker.
Ad blocker interference detected!
Wikia is a free-to-use site that makes money from advertising. We have a modified experience for viewers using ad blockers

Wikia is not accessible if you've made further modifications. Remove the custom ad blocker rule(s) and the page will load as expected.