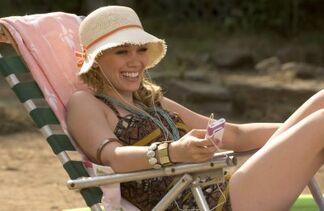 Lorraine Baker
(born February 27, 1987) is the third Baker child and the second daughter of the Baker family.
Lorraine is sixteen years old and very into fashion and makeup. Lorraine is seen screaming at the breakfast table as Mark Baker's frog destroys the meal. When the family moves she is seen holding a photo album and hugging her friends goodbye. Lorraine rushes into the new house to get the biggest room and fills it with posters and a mannequin. When Mark goes missing, Lorraine is seen running with Nigel and Kyle down the street. She is quite close to older brother Charlie in this film. Also, she loves to be a fashion guru.
Lorraine Baker is portrayed by Hilary Duff.
Ad blocker interference detected!
Wikia is a free-to-use site that makes money from advertising. We have a modified experience for viewers using ad blockers

Wikia is not accessible if you've made further modifications. Remove the custom ad blocker rule(s) and the page will load as expected.