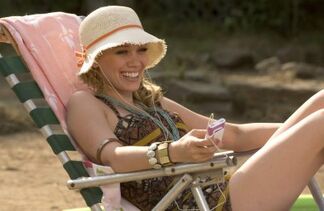 Lorraine Baker
(born February 27, 1987) is the third Baker child and the second daughter of the Baker family.
In the first film she is sixteen years old and very into fashion and makeup. Lorraine is seen screaming at the breakfast table as Mark Baker's frog destroys the meal. When the family moves she is seen holding a photo album and hugging her friends goodbye. Lorraine rushes into the new house to get the biggest room and fills it with posters and a mannequin. When Mark goes missing, Lorraine is seen running with Nigel and Kyle down the street. She is quite close to older brother Charlie in this film. Also, she loves to be a fashion guru.
In the second film, Lorraine is eighteen years old and has just graduated from high school. She wants to move to New York, much to her fathers dismay. Lorraine agrees to go on vacation with her family as long as Tom stops bugging her about moving to New York. She arrives at the lake a couple of days after her family and seems to spend all her time sunbathing whilst reading magazines. She helps Sarah get ready for her hang out with Elliot. Lorraine takes part in the Labor Day Cup and is told by her mother to "lose the shoes, they're fancy and brand new." Lorraine is also in the delivery room while her sister Nora has her baby, as Lorraine is the aunt.
Lorraine Baker is portrayed in both films by Hilary Duff.
Ad blocker interference detected!
Wikia is a free-to-use site that makes money from advertising. We have a modified experience for viewers using ad blockers

Wikia is not accessible if you've made further modifications. Remove the custom ad blocker rule(s) and the page will load as expected.