Mike Baker (born April 10, 1997) is the 10th child of the Baker family.
In the first film he is six years old and appears to like karate. He and his older brother Jake get into a fight with some bullies at his new school, after they bully Mark. Mike and the others get grounded for this action, but he asked what grounded means. He helps prank Hank and seems to enjoy it. He is a very huggy person in the film.
In the second film he is eight years old and into skateboarding, like his older siblings Jake and Sarah, and is the closest to them. Mike is seen cheering loudly when his older sister Lorraine graduates from high school. At Lake Winnetka, Mike befriends Elliot Murtaugh and is mortified when he starts hanging out with Sarah. Mike and Jake are seen fighting whilst practicing for the three legged race for the Labor Day Cup. Mike, Kenneth and Mark are seen messing about with bedpans whilst waiting in the hospital for Nora to have her baby.
Mike Baker is played by Blake Woodruff in both films.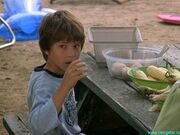 Ad blocker interference detected!
Wikia is a free-to-use site that makes money from advertising. We have a modified experience for viewers using ad blockers

Wikia is not accessible if you've made further modifications. Remove the custom ad blocker rule(s) and the page will load as expected.