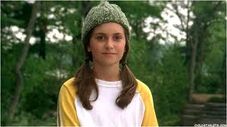 Sarah Baker (born February 14, 1992) is the fifth child in the Baker family.
In the first film Sarah is eleven years old and a tomboy lacrosse lover. She is mischievous and plans pranks on her older sister Nora's boyfriend Hank. Sarah used to call Mark "Fed-Ex" until Mark ran away. She is grounded for fighting at school and slacking on her chores. Sarah shared a room with Kim and Jessica, but when they moved she got her own room. At their new neighbor Dylan's birthday party, she is seen being chased around on a bouncy castle by her father.
In the second film Sarah is thirteen years old and seems the closest to her younger brothers Jake and Mike. At Lake Winnetka (the Baker's vacation house), Sarah meets Elliot Murtaugh and develops a friendship with him. Sarah has a a crush on Elliot. Because she kept hanging out with him, she felt ugly and too much like a boy, so she trys to steal some make-up but is caught by security. In the end she manages to persuade sister Lorraine to give her a makeover before she goes on her first hang out with Elliot. While on her hang out with him she sees Tom and Jimmy spying on them so she refuses to compete for the Labor Day Cup. Finally, after a pep talk from their mother, the Baker kids get to the competition just in time and the Bakers tie with the Murtaughs, until Nora goes into labor. In the hospital scene Sarah is seen talking to Elliot.
Sarah Baker is played by Alyson Stoner in both films.
Ad blocker interference detected!
Wikia is a free-to-use site that makes money from advertising. We have a modified experience for viewers using ad blockers

Wikia is not accessible if you've made further modifications. Remove the custom ad blocker rule(s) and the page will load as expected.