Tina Shenk is the main antagonist of the first Cheaper by the Dozen film, although unintentional. She is played by Paula Marshall.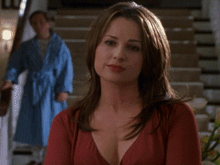 She is not actually evil, but she is over-protective of Dylan and is not fond of him playing with the Bakers, the main characters of the film. She initially started out as the Bakers new next-door neighbors, but soon she became a more prominent character.
She was rather surprised that the Bakers had twelve kids, and was appalled when Dylan played hockey with them indoors. Tina thinks that the Baker kids will end up on milk cartons and even makes Dylan's birthday party fancy instead of normal.
After Dylan is landed in the hospital after the Baker kids ruin his birthday party while they snuck out of the house being grounded and Tom Baker falls on him, Tina furiously tells him his kids can no longer play with Dylan.
She makes her final appearence when Mark, one of the Baker kids, runs away, Kate Baker comes to her house and asks if he came there. Tina rudely says that she knew "One of their kids would fall on a milk carton." And says that twelve is too big a number. She refuses to go help look for Mark, but Bill and Dylan agree to go, much to Tina's annoyance. She then rudely says they'll never find him and to let the police handle it, but Kate replys that they will, because "As you said, twelves a big number."
Ad blocker interference detected!
Wikia is a free-to-use site that makes money from advertising. We have a modified experience for viewers using ad blockers

Wikia is not accessible if you've made further modifications. Remove the custom ad blocker rule(s) and the page will load as expected.